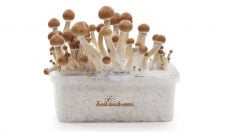 We got a new kit on the block and it.. is.. Fresh! The FreshMushrooms magic mushroom grow kits are a great choice for you guys if you want a fast harvest, extra potency and low maintenance grow kit. Let's go over the specs of the new magic mushroom grow kit.
.
..
1x Mushrooms Grow box – This contains substrate with active mycelium
1x Growbag – The bag has filters across the bag.
2x paperclip – For closing the grow bag.
.
Fast growing: 1 week to first pins
High yields: Up to 4 flushes. (with excellent conditions)
High Potency: According the supplier the XP (Extra Potent) strains are twice as potent!
.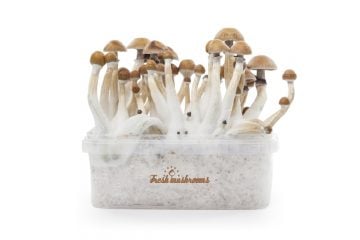 .
Growing instructions
There are several benefits to these FreshMushrooms XP grow kits.
Keep in mind that this new adventure has new instructions. They're slighty different from our SupaGro and Standard Grow Kits. As you order your brand new FreshMushroom, make sure you read the product information and double check the FreshMushrooms instructions.
.
Available FreshMushroom Strains
.
We offer the familiar strains: A+, Cambodian, B+, Golden Teacher and many more! We're very excited to share these new grow kits with our fellow cultivators. Click on this link and discover the benefits of your own Fresh Mushrooms Grow Kit!
.