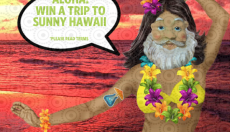 The summer is reaching its end. Time to give away a trip to the sunny Hawaii*!
Join our Facebook contest and find yourself tripping Hawaiian style..
[TERMS]
- Make sure you LIKE & SHARE, otherwise you can not win
- Share and LIKE as many times as you want
- Previous Winners from the last 3 months can not WIN until the time has past (so we keep everybody happy..)
- Don't forget to get a thai massage!
- * Winner will receive a Hawaiian Pes Grow Kit
- Check your country restrictions on Magic Mushrooms Grow Kit before entering the contest.