Trip Length 101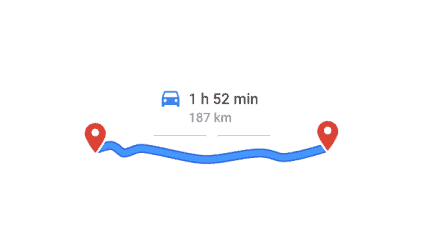 Before taking a psychedelic substance it just makes sense to contemplate set and setting. Yet another aspect of these considerations is knowing the different stages and lengths of a psychedelic journey. This information can help you to safely arrange your trip and give yourself the proper amount of time to really unfold into the experience.
.
Here's a quick guide to Psychedelic Trip Duration to keep handy before your next jaunt into the psychedelic yonder. Remember, this is a rough guide, not a golden rule ─ there is no one-size-fits-all when it comes to psychedelic experiences. Every trip is as individual as the person tripping.
.
Psychedelics affect mood, cognition, and perception─ keep in mind that you may lose your sense of time while on psychedelics, making it difficult to gauge how long it's been since you dosed.
.
Why is there a Difference in Trip Duration?
.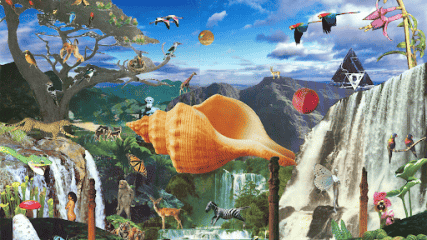 .
Hallucinogens act on neural circuitry in the brain that engages with the neurotransmitter serotonin. The different substances have different shapes and affinity for the neuroreceptors, meaning that on a neurological level, there are mechanical differences. But there are many other factors that can also impact the trip length.
.
Factors Affecting Trip Duration
.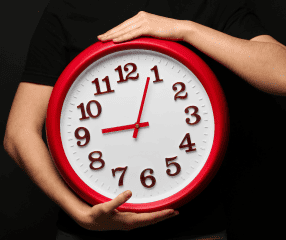 .
Potency ─

for organic compounds like mushrooms, ayahuasca, mescaline and iboga root the potency or amount of psychedelic compound present in the plant matter will dictate much of the trip experience and length
.

Amount Consumed

─ the amount of psychedelics you take will certainly have an impact on the length and intensity of the trip
.

Empty/Full Stomach ─

consuming a psychedelic on an empty stomach typically affects the intensity and duration of the experience
.
Previous Exposure ─

the brain develops a tolerance to most, if not all of these substances, so if you take them very often or for several days in a row you will have reduced sensitivity and the duration can be affected
.

Body Composition ─

weight, height, gender, age, metabolic rate, and general constitution (both physiological and psychological) can all impact the psychedelic duration and intensity
.
Duration Directory
.
Mushrooms (Psilocybin)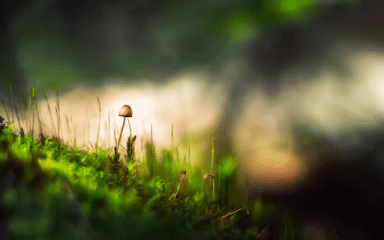 .
Typically a shroom trip lasts around 4-6 hours, peaking within the first 1 or 2 hours. The time of onset depends a bit on the method of ingestion: eating raw shrooms will likely have you feeling some psychedelic effects within 30 minutes after consumption, yet crushing the mushrooms, making a tea or soaking them in lemon juice can induce a much faster onset time ─ around 10 to 15 minutes.
.
Mushrooms stay in your body for 48 hours, but the byproducts (shroom metabolites) can be detected in your system for several months afterwards.
.
Acid (LSD)
.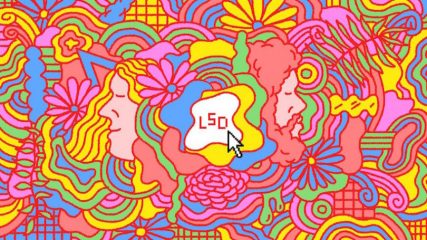 .
For most people the effects of LSD can be felt for between 8 to 12 hours. You can start to feel the effects of acid within 20 to 90 minutes and the experience peaks around the 3-5 hour mark.
.
Infamously long-lasting, new research is coming out about why acid stays in the system so long. From a study published in Cell it was discovered that the LSD molecule wedges into the serotonin receptor at an unexpected angle and then part of the receptor enfolds the LSD molecule like a lid, sealing it inside. This mechanism helps explain why the effects of LSD can take hours to disappear.
.
DMT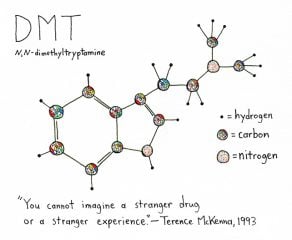 .
Synthetic DMT is a white, crystalline substance most commonly consumed by smoking or vaping. The effects of this type of DMT are very short, lasting only about 15-30 minutes. Onset is also super rapid to kick in ─ hallucinations can start about 45 seconds after consumption.
.

The body is able to quickly metabolize DMT; research has shown it is below the limit to be detected in the system after only an hour.
.
Ayahusca
.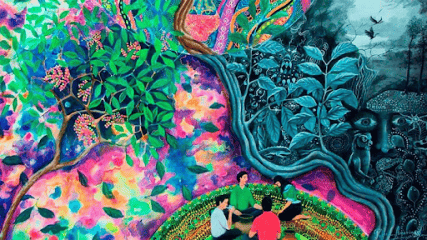 .
The compound of DMT has no effect if it is taken orally, as it is broken down by monoamine oxidase (MAO) in your digestive detract. So although it is naturally found in some plants (such as Chacruna) the method of consumption is to drink it in a brew that includes a monoamine oxidase inhibitor (MAOI), in the case of the ayahuasca brew, this would be the Banisteriopsis Caapi vine.
This means the DMT has to first pass through the digestive system, so it takes a little longer to kick in (compared to smoking or vaping it) but also produces a longer-lasting effect.
.
An Ayahuasca journey can last anywhere from 2 to 6 hours, but on average you can expect about 4 hours of tripping. The substance can stay in your system for up to 15 to 24 hours after consumption. It can kick in within 30 to 45 minutes after drinking.
.
Mescaline
.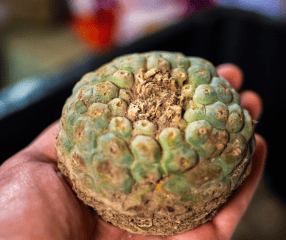 .
Naturally found in the peyote cactus, mescaline has a typical onset time from between 45 to 60 minutes and will have noticeable effects for around 6-10 hours (though some anecdotal evidence has shown mescaline trips to last up to 15 hours). It can be detected in your body for up to 90 days.
.
Iboga
.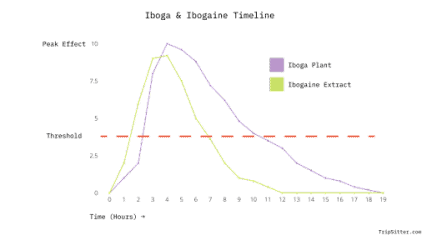 .
Perhaps the most powerful psychedelic known, ibogaine is the psychedelic alkaloid and active ingredient in the iboga plant. To consume it, one can either take concentrated ibogaine itself or chew on the bitter root bark. It can take up to 1 or 2 hours for the effects to come on.
.
The acute effects of concentrated ibogaine last up to 8 hours, with an extra 10 hours feeling the effects. Iboga root lasts much longer ─ up to 24 hours of visions with an additional 48 hours of a more introspective feeling state afterward. A lipophilic compound, ibogaine stays in your tissues for a long time after the main effects wear off.
.
Afterglow Afterwards
.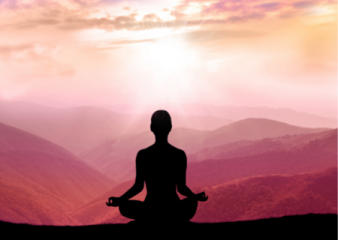 .
It can take hours, days, or even weeks for the body to return to its 'typical' state of being after a psychedelic experience. Many people refer to this as the afterglow effect during which you can continue to feel the benefits and after-effects of the trip.
.
Remember: the insights, realizations and healings you experience from a psychedelic substance or plant medicine can last much longer than the physical chemical remains in your body.
.
Note: If you're suffering from a mental illness and are curious about using psilocybin or any other psychedelic therapy, please consult one of the relevant medical authorities first. Do not self-prescribe, it's vital to have the right support and guidance when using psychedelics as medicine.