Psychedelic Profiles - Terence McKenna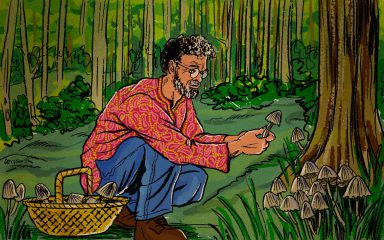 Writer, lecturer, ethnobotanist, psychonaut, mystic… Terence McKenna is something of a legend within the psychedelic community. An advocate for the exploration of altered states of mind, an authority figure on the foundations of shamanism, and an articulate voice for counterculture…Let's dive deeper into the unique mind and life path of Terence McKenna.
.
.
Who Was Terence McKenna?
.
"Life lived in the absence of the psychedelic experience that primordial shamanism is based on is life trivialized, life denied, life enslaved to the ego." Terence McKenna
.
Terence McKenna cultivated a career as an ethnobotanist and ecologist, traveling the world and studying entheogenic plants and fungi, but he is perhaps best known for his work as the spokesperson who defiantly advocated for the use of psychedelics and other mind-altering substances.
.
Described as the 'Irish Bard' of psychedelia, McKenna is known for his unique discursive style that merges science and poetry. Along with his brother, Dennis, Terence is widely celebrated for his speculations, theories, and first-person insights about the psychedelic experience. Quoted as the 'intellectual embodiment of psychedelic counterculture' there are few figures who have made such a profound mark through their psychedelic discoveries and ideologies.
..
Life Path
.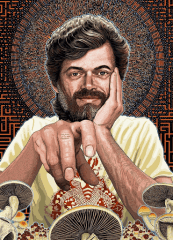 .
McKenna (1946- 2000) was born in the United States and grew up in California to a mother of Welsh descent and a father with Irish ancestry. As a child, he developed a fascination with fossil collection and geology and as a teenager, he had his first experiences with psychedelics (smoking morning glory seeds) and cannabis.
.
In 1965 McKenna enrolled to study art history at the University of California, Berkeley, but really hit his stride when he began studying shamanism after enrolling in a Tibetan folk religion class. He then traveled to Nepal in 1969 to study the Tibetan language and the use of psychedelic plants; during this time he also worked as a smuggler transporting hashish from Nepal and India to America before getting caught and heading off to Indonesia to work as a butterfly collector.
.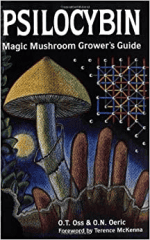 .
In 1971 he traveled to the Amazon with his brother Denis and some friends searching for an entheogenic plant called oo-koo-hé (yopo). Instead, they found huge fields of Psilocybe cubensis mushrooms and began studying these instead, learning about cultivation methods from the local population and eventually bringing spores home. Up until then no one had successfully cultivated magic mushrooms outside their natural habitat, and the brothers' published work 'Psilocybin: Magic Mushroom Grower's Guide' totally changed the game for mushroom growers around the world.
.
After years of travel, exploration, and mind-altering experiences in South America and Southeast Asia, Terence eventually graduated with a bachelor's degree in ecology, shamanism, and conservation of natural resources in 1975. In the 1980s he also began to give speeches on psychedelic drugs, the counterculture movement, and conscious expansion becoming one of the pioneers of the psychedelic movement.
.
McKenna later got married to Kathleen Harrison, a fellow ethnobotanist he had met in Jerusalem many years before, and together they founded Botanical Dimensions in Hawaii, an organization dedicated to the protection and propagation of ethno-medically significant plant species. Terence McKenna died in 2000 from a rare form of brain cancer called glioblastoma multiforma.
..
Philosophy & Ideologies
.
.
"Chaos is what we've lost touch with. This is why it is given a bad name. It is feared by the dominant archetype of our world, which is Ego, which clenches because its existence is defined in terms of control." Terence McKenna
.
Often called one of the leading authorities on the ontological foundations of shamanism, McKenna is also widely known for theorizing about the origins of human consciousness. Plant-based psychedelics served as a source of inspiration in his writing, work, and life and he emphasized the importance of direct felt experience over any sort of dogma. Although he was an outspoken advocate for psychedelic exploration, McKenna was also vocal about the importance of safety and respect when having these experiences:
.
"Experimenters should be very careful. One must build up to the experience. These are bizarre dimensions of extraordinary power and beauty. There is no set rule to avoid being overwhelmed, but move carefully, reflect a great deal, and always try to map experiences back onto the history of the race and the philosophical and religious accomplishments of the species. All the compounds are potentially dangerous, and all compounds, at sufficient doses or repeated over time, involve risks. The library is the first place to go when looking into taking a new compound."
.
McKenna believed that DMT and other psychedelics can act as a gateway for trans-dimensional travel and that the visions or hallucinations one had while tripping were taking place in alternate dimensions.
.
He often wrote of encounters with 'higher dimensions entities' be it ancestors, spirits or what he sometimes referred to as 'self-transforming machine elves' or DMT elves ─ humanoid creatures often encountered on heroic doses of psychedelics. He proposed that psychedelics opened a channel of communication between the intelligence of Earth and the human individual.
. .
Some of His More Famous Theories
.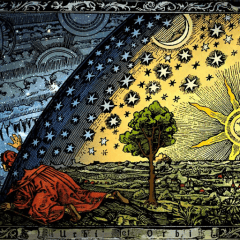 .
Psilocybin Panspermia Speculation

: he believed that mushrooms were an intelligent entity that had migrated to Earth from space and was attempting to establish a symbiotic relationship with humans.
.
Stoned Ape Theory:

the McKenna brothers speculated that ingestion of magic mushrooms was a factor in the increased brain size and eventual evolution of apes into humans. The essence of this theory is that mushrooms acted as an evolutionary catalyst that sped up and directed this process.
.
Novelty Theory

: is a proposal for how to predict the ebb and flow of the universe, based on the idea that time is not constant but fluctuates between states of 'habit' and 'novelty'. Habit means entropic or repetitive and novelty indicates random or chaotic. McKenna believed that the universe is an engine generating novelty, and in doing so generating complexity. In situations of higher complexity time seems to move more quickly, and thus more things happen in the same moment in a novel system compared to a habitual one. For more information on this, you can

watch

this interview.
.
Mckenna's Book List
.
If you really want to dive deeper into McKenna's thoughts and theories, then his published works are a must-read. As a prolific writer, his books offer a brilliant stepping stone into topics of shamanism, ethnobotany, alchemy, plant-based psychedelics, philosophy, culture, technology, and metaphysics.
.
The Invisible Landscape: Mind, Hallucinogens, & the I Ching (1975)
Psilocybin: Magic Mushroom Grower's Guide (1976)
Food of the Gods: The Search for the Original Tree of Knowledge A Radical History of Plants, Drugs, and Human Evolution (1992)
The Archaic Revival (1992)
History Ends in Green (1992)
True Hallucinations (1993)
Global Perspectives and Psychedelic Poets (1994)
.
Note: If you're suffering from a mental illness and are curious about using psilocybin or any other psychedelic therapy, please consult one of the relevant medical authorities first. Do not self-prescribe, it's vital to have the right support and guidance when using psychedelics as medicine.