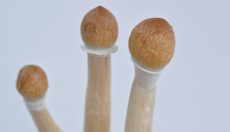 The Amazonian PES strain, or PESA is a psilocybe cubensis variation that grows magic mushrooms in abundance. PES stands for Pacific Exotixa Spora a spore trader from Hawaii. The Amazonian has it's origin in South America.
The Amazonian strain is a fast grower and has rhizomorphic and dense mycelium.
The mushroom caps grow round, chestnut brown, sometimes scaled caps. The magic mushrooms are medium to large sized depending on the flush.
The Amazonian spores grow good PF-Tek and Rye grain substrates.
Get the Amazonian PES magic mushroom grow kit online