Mushrooms vs. LSD ─ Chemistry, Biology, & Personal Experiences - What's the Difference?
It's a pretty common question that pops up when preparing for a psychedelic experience ─ should you go for magic mushrooms or LSD? But have you ever wondered what's really the difference between these two prominent psychedelics?
We're going to have a look at their composition, effects, history, and some personal anecdotes to help you determine which one to choose next time you want to take a trip.
.
Fungi vs. Synthetic ─ Speed Round
.
Magic Mushrooms
.
Naturally growing
Usually ingested fresh or dried
Typical dosage: 1g dried mushroom (10 mg, Psilocybin 5mg, Psilocin)
Oral administration
Average duration 4-6 hours
Onset time around 1 hour
.
LSD (Lysergic Acid Diethylamide)
.
Synthetic (derived from lysergic acid, a fungus commonly found on rye grains)
Usually ingested as a liquid absorbed on blotter paper or as a liquid
Typical dosage: around 25- 80 μg
Sublingual administration
Average duration 6-10 hours
Onset time around 1 hour
..
History Lesson: Different Timelines
.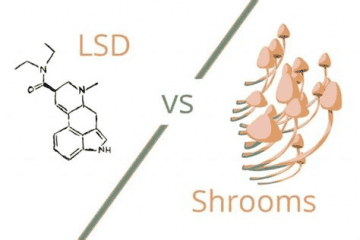 ..
LSD and magic mushrooms (specifically psilocybin-containing mushrooms) have both played significant roles in various cultures and have influenced human evolution in different ways.
..
Here's a quick timeline that explores the history of LSD and magic mushrooms in terms of culture and human evolution:
..
LSD:
..
Discovery and Synthesis (1938):
LSD was first synthesized by Swiss chemist Albert Hofmann in 1938 while working at Sandoz Laboratories in Basel, Switzerland.
..
Medical and Therapeutic Use (1940s-1960s):
In the 1940s and 1950s, LSD was explored for its potential therapeutic applications, especially in psychiatry. It was used to treat conditions like alcoholism, anxiety, and depression.
..
Counterculture Movement (1960s):
In the 1960s, LSD became a symbol of the counterculture movement. It was associated with anti-establishment sentiments, the pursuit of personal freedom, and the exploration of altered states of consciousness.
..
Cultural Impact (1960s-1970s):
LSD influenced art, music, and literature. Artists like The Beatles, Jimi Hendrix, and authors like Aldous Huxley were inspired by their experiences with LSD.
..
Government Crackdown and Criminalization (1960s-1970s):
Due to concerns about the potential dangers of LSD and its association with the counterculture, governments around the world began criminalizing its use. Research on LSD was severely restricted.
..
Renewed Research (Recent Decades):
In recent decades, there has been a resurgence of interest in researching the potential therapeutic benefits of LSD, particularly for conditions like depression, anxiety, and PTSD.
..
Magic Mushrooms:
..
Ancient Use (Thousands of Years):
Psilocybin-containing mushrooms have a long history of use in various indigenous cultures around the world. They were often used in religious or spiritual ceremonies to induce altered states of consciousness.
..
Cultural Significance (Pre-Columbian Americas):
In pre-Columbian Mesoamerican cultures, mushrooms played a central role in religious practices. The Aztecs referred to them as "teonanácatl," which means "flesh of the gods."
..
Western Discovery (20th Century):
Western scientists first became aware of psilocybin mushrooms through the work of ethnobotanists like R. Gordon Wasson, who documented their use in Mexico in the mid-20th century.
..
Influence on Modern Psychedelic Movement (1960s):
Magic mushrooms played a significant role in the 1960s psychedelic movement alongside LSD. They were seen as a tool for expanding consciousness and exploring spirituality.
..
Criminalization and Resurgence (20th Century - Present):
Like LSD, magic mushrooms were criminalized in many parts of the world. However, in recent years, there has been a resurgence of interest in their therapeutic potential, leading to changes in legal status in some places.
..
The Chemistry: A Neurochemical Interplay
..

..
Psilocybin and LSD share a common structural framework known as the tryptamine backbone. This structure allows them to interact with serotonin receptors in the brain, influencing mood, emotions, and perception, but they do so in slightly different ways.
..
Psilocybin, the active compound in magic mushrooms, is converted into psilocin in the body. Psilocin binds primarily to serotonin receptors called 5-HT2A receptors. This activation leads to altered perception, mood changes, and a sense of interconnectedness. However, magic mushrooms also contain several other compounds that are not yet well understood but may contribute to their effects including various alkaloids and beta-carbolines.
..
LSD also affects the serotonin system by binding to various subtypes of serotonin receptors, including these 5-HT2A receptors. One of the reasons LSD lasts so long is because these receptors have an even stronger affinity for LSD than they do for serotonin, and part of the molecule folds over the LSD like a lid, locking it into place so it cannot quickly detach. The trip only ends when the LSD is released from the receptor and metabolized by the body.
..
While both substances share similarities in their interactions with serotonin receptors, the specific ways in which they bind and influence these receptors contribute to their distinct subjective experiences and durations of effect. It's important to note that research on these substances is ongoing, and scientists are still figuring out the specifics of exactly how each drug influences the brain.
..
The Journey: Anecdotes and Personal Experiences
.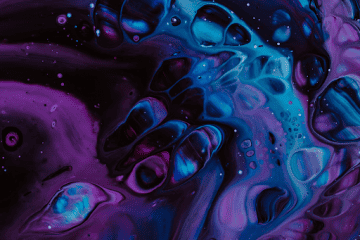 ..
Despite their shared structural core, anecdotally mushrooms and LSD seem to offer distinctive inner voyages.
..
Some say that if you're looking for a grounding but hypnotic, profoundly introspective journey that will declutter your mind, go for mushrooms. Mushroom trips are said to induce strong feelings of connection to nature, showing vibrant pulsing organic patterns, enhancing colors, and enforcing a sense of unity and interconnectedness. There is a perception that shrooms lead to a more introspective and reflective experience, which can result in profound insights and releasing dysfunctional patterns. Psilocybin is typically metabolized starting from the gut and working its way into the bloodstream, so the high is also said to be more in the body, with nausea being a common side effect.
..
On the other hand, if you're seeking a lucid, wild ride, with ineffable visions and potential emotional discharge, then maybe LSD is your substance of choice. Acid is sometimes described as catapulting the mind into a cosmic adventure, unveiling intricate fractals and vivid fast-moving animations, lending one the boundless sense of possibility. It is associated with being a bit more energizing and good for socializing. Often expressed as being more centered in the mind, while still inducing euphoria and extroversion.
..
All of this being said, there are studies that suggest that ultimately the power of mindset and environment (set and setting) will have the greatest impact on the overall psychedelic experience. LSD trips can be profound, and mushrooms can be a lot of fun ─ it all depends!
..
The Conclusion: Navigating the Psychedelic Landscape
..
In the realm of psychedelics, mushrooms and LSD can offer different avenues for exploration. Anecdotally they seem to provide distinct perspectives, inviting individuals to delve into varying aspects of their consciousness.
..
Ultimately, the choice between mushrooms and LSD is a personal one, shaped by your preferences and intentions. Both are potent substances with the potential to illuminate your inner landscape and expand your awareness!
..
Note: If you're suffering from a mental illness and are curious about using psilocybin or any other psychedelic therapy, please consult one of the relevant medical authorities first. Do not self-prescribe, it's vital to have the right support and guidance when using psychedelics as medicine.