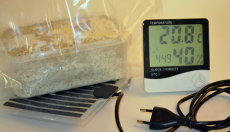 During the colder days of the year it might be difficult to keep an optimal temperature for growing magic mushrooms. The best temperature to incubate and fuiting the psilocybine cubensis through the whole growth cycle is 23-24°C/73-76°F. The most important thing is to keep the temperature in your grow kit as stable as possible. Higher or lower temperatures will infuence the development of the mycelium and the growth of your magic mushrooms.
Keep a constant temperature with our thermo mat (heating pad).
To maintain a constant temperature in the grow kit we advice you to use a thermo mat. This heating pad is very easy to use and uses little electricity (just 4 watt) so you can keep it on during the incubation and growing cycle. Here are some advantages of using a heating pad lined up:
Maintain optimal temperature and humidity
Re-usable
More yield in wintertime
Little energy usage (4 watt)
How to use the heating mat?
Placing it is real easy! Use a pan coaster or something similar to ensure a free airflow between the grow box and the surface it is placed on. Place the mushbag on top of the thermo mat, plug it in and let nature do his work.
Thermo mat instruction video
Keep warm, Keep growing!
Click on the picture below to buy the thermo mat (heating pad) in our shop.