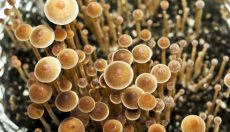 Keeping up the momentum that cannabis legalization set, a Colorado group is trying to decriminalize magic mushrooms. Representatives of Colorado Psilocybin met with Denver city officials this week to discuss a possible ballot measure.

Could it be possible to eliminate penalties for small amounts of psychedelic mushrooms? The new law would do away with all penalties for possession of less than two ounces of dried mushrooms.
Medicinal Uses
Kevin Matthews is an activist that helped write the Psilocybin Decriminalization Initiative, as the measure is known. He told local media that he uses psilocybin as a medicine and that it also helps to foster creativity and introspection. "It's helped me tremendously with my own mental health and on top of that, with creativity, and really being able to just explore different aspects of myself, and really get some healing from the inside out."
Dr. Michele Ross is a neuroscientist and another supporter of the proposed ballot measure. She also believes in the medicinal benefits of psilocybin. "I use many different natural substances," said Ross," but psilocybin is one thing that helps me overcome depression in a way that cannabis hasn't."
Following Pot's Path
Colorado voters legalized cannabis for medicinal use in 2000. A ballot measure legalizing recreational pot passed in 2012. The ballot measure has many hurdles to clear before it becomes law. If this happens, than this would be a revolutionary point in history where the law finally accepts the save usage of organic medicines.
Source: https://hightimes.com/news/colorado-group-trying-decriminalize-magic-mushrooms/