All about the Colombian Magic Mushroom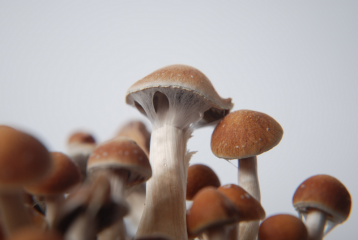 The Colombian Psilocybe cubensis is a well-known and highly prized strain of magic mushrooms that has been enjoyed by psychonauts for years. Despite its popularity, it has been overshadowed by other potent strains in recent years.
The great thing is that this strain remains a favorite among those who have experienced it because of its unique and powerful effects.
Let's take a closer look at the Colombian magic mushroom strain.
.
Colombia(n) Psilocybe cubensis strain
.
The Colombian magic mushroom strain is known for its fast colonization rate and ability to grow a mix of rhizomorphic and cottony mycelium. It can produce large mushrooms that tend to topple over and are not able to hold their own weight, which is a great thing when the time comes to collect your crop.
.
The Colombian strain is known for its distinct cap coloration and slender stalks. It has a pale yellowish-white cap with a dark umbo in the center and is known for producing moderate amounts of spores.
Colombian Rust Spore is a mutation of the Colombian strain, it sporulates rust brown spores instead of the dark purplish-black that is normal.
.
To grow this strain, it is important to maintain optimal conditions, including proper temperature and humidity levels. During colonization, the ideal temperature for this strain ranges from 28-30°C. And during fruiting the optimal temperature range is 22-25°C.
.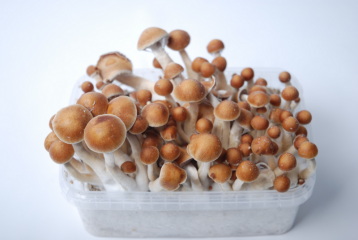 .
It is also important to provide proper ventilation and use a substrate that is rich in nutrients, such as a mixture of straw and manure, to support the growth of the mushrooms.
.
In the growth cycle of the Psilocybe cubensis, the first stage is the colonization of the substrate, at this stage, the mycelium begins to grow and spread. This is followed by the pinning stage, where small mushroom primordia, or pins, start to form. Once the pins have matured, comes the fruiting stage where the mushrooms begin to grow and develop. After the mushrooms have matured, they can be harvested and picked for consumption.
.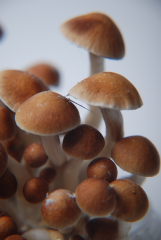 A grow kit is the easiest way to cultivate as it provides everything needed to grow the mushrooms, including the substrate and mycelium, and for most kits, all you need to do is add water, maintain ideal temperature, and humidity and be patient.
.
Here at the Magic Mushrooms Shop, we carry 3 kinds of Colombian grow kits:
.
.
Effects of the Colombian magic mushroom
.
The effects of this strain are described as clean and mellow, making it a good choice for social situations where to feel more relaxed and at ease. It is described as having a low anxiety effect, coming on slowly and smoothly, and providing a peaceful journey.
.
Note: If you're suffering from a mental illness and are curious about using psilocybin or any other psychedelic therapy, please consult one of the relevant medical authorities first. Do not self-prescribe, it's vital to have the right support and guidance when using psychedelics as medicine