Top Podcasts About Psychedelics & Expanding Your Consciousness
Pop on your pods (or headphones) and hit play. Podcasts have become a great source of information and inspiration in just about every aspect of life, so we've compiled a list of some of the top podcasts out there that focus on psychedelics and the expansion of consciousness.
Happy Listening!
.
The Third Wave with Paul Austin
.
.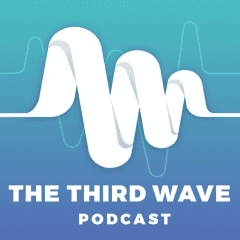 First things first: it's a good idea to think ahead so that you can avoid taking any psychedelics from someone you don't know or trust. The best option would be to buy from a reputable company or grow your own product. This way you know exactly what you're getting, and have traced every step it takes along the way. If you don't have that foresight, many festivals provide free substance testing on-site, so be sure to test a sample of your product, if in doubt!
.
Plan Ahead & Pack Well
.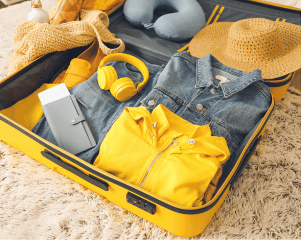 ..
Next up, make sure you're well-equipped with all the essentials to ensure you have an amazing experience.
Some ideas include:
..
Nutritional snacks and plenty of drinks: important to keep you hydrated and energized, and avoid crashes of energy or dehydration

Sun protection: dancing all day under the sun is great, but not if you get burnt to a crisp. Invest in some good sunscreen, slick sunglasses, and wear a hat or scarf to cover yourself during peak sun hours

Comfortable clothes (and socks): bring clothes you feel good moving in, and make sure to pack enough of them so that you can feel fresh and clean throughout the festival… This is especially true for socks (clean socks will also help you avoid blisters!)

Toiletry essentials: make sure you have hand sanitizer, wet wipes, tissues, mouthwash… anything to support your hygiene and help you keep moderately clean

Health kit: it can be a good idea to bring some over-the-counter pain meds and upset stomach relievers, just in case

Phone charger/battery pack: it's also a good idea to have a way to stay charged up so that you can stay in touch with your friends, especially if you're planning on tripping on psychedelic substances

Sleep support: stock up on earplugs, an eye mask, a

good

sleeping mat and maybe even some

CBD oil

, all of which can really help you get some nourishing (and necessary) shut-eye
..
Scope the Grounds
.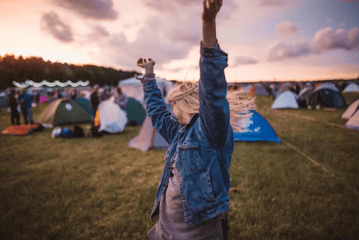 .
Make a point to take a tour of the festival grounds before embarking on your psychedelic journey. Have a look for spots that feel safe and a bit protected, like chill-out zones, natural areas, or an acoustic stage, in case you need a break from stimulation during the trip.
.
Also, scope out the vibe of the different stages and music areas beforehand, so you know where is more energizing and where is more relaxed. This will help you when you're riding the waves of your psychedelic experience. It is also a great idea to familiarize yourself with key areas like water stations, toilets, and first-aid tents.
.
Set an Intention
.
.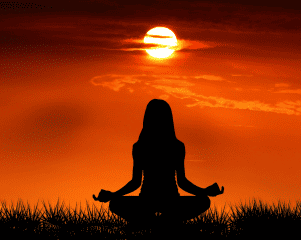 .
As with any psychedelic experience, an intention can help anchor you during the trip and also provides a focal point that helps guide you. It is a great idea to ask yourself what you want or need from the trip before you consume anything. An intention could be anything, from connecting more deeply to yourself, opening up to the music and artists, or even just celebrating and having a good time while getting more liberated. There's no wrong way to set an intention!
.
Squad Safety
.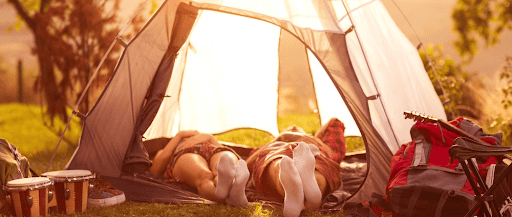 .
It's not mandatory, but it can be a lot more fun (and safe) to attend (and trip at) a festival along with your friends. You can get creative about finding ways to stay together while you party ─ some people like to build a totem for their group that can be waved above the crowd and has funky colours and lights to help ensure that everyone can always find each other. Or you can set a meeting point somewhere on the grounds where you can always congregate if someone gets separated.
Even if you prefer flying solo, it can still be a good idea to have a designated trip sitter, someone that you really trust who can accompany you while you're under the influence of psychedelics (this is especially true if it's your first time, or you're quite inexperienced when it comes to psychedelics or music festivals)
.
Final Words
.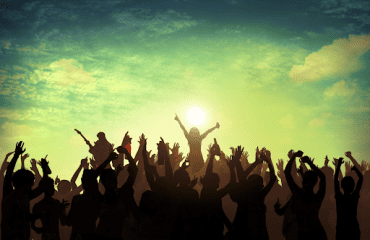 .
Stay safe as you celebrate the festival season this summer. Surround yourself with good people, take some time to plan a little bit beforehand and then let go and surrender into the experience. No matter how your trip goes, you will learn some lessons and have an adventure.
A festival is more like a marathon than a sprint; with that in mind is it important to pace yourself ─ both with dancing and with taking psychedelic substances. Take breaks, take it easy, take care of yourself!
.
Note: If you're suffering from a mental illness and are curious about using psilocybin or any other psychedelic therapy, please consult one of the relevant medical authorities first. Do not self-prescribe, it's vital to have the right support and guidance when using psychedelics as medicine.