Psychedelic Profiles Albert Hofmann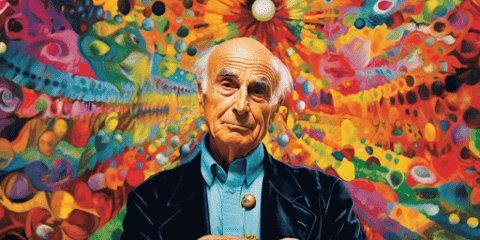 Albert Hofmann is well-known by those intrigued with consciousness exploration. Hofmann's name stands out against the tapestry of history thanks to the profound impact he had on the field of psychedelic research. Born on January 11, 1906, in Baden, Switzerland, and often referred to as the 'Father of LSD', Hofmann's life journey led him to discover a compound that ignited deep philosophical conversations, redefined reality's boundaries, and revolutionized psychology and neuroscience.
.
Personal Life: A Curious Mind
.
.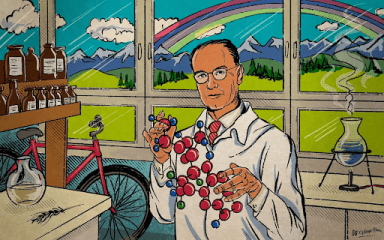 .
Albert Hofmann's early life was marked by an insatiable curiosity that seamlessly merged with his scientific inclinations. His academic pursuits led him to the University of Zurich, where he embarked on a journey through the world of chemistry. During this period, he delved into the study of natural compounds and hallucinogens, an endeavour that would lay the foundation for his most significant discovery.
.
Hofmann's personal life was characterized by a deep connection to nature. His regular hikes through the Swiss Alps and his affinity for the intricacies of the botanical world not only enriched his scientific understanding but also provided him with a holistic perspective that would profoundly influence his future.
.
Achievements: The Serendipitous Discovery of LSD
.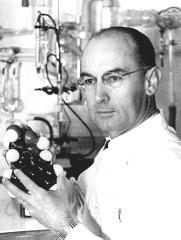 ..
While Albert Hofmann's early work revolved around the isolation of various medicinal compounds, it was his inadvertent encounter with lysergic acid diethylamide (LSD) that would thrust him into the spotlight of scientific history. In 1938, Hofmann synthesized LSD for the first time while researching its potential medical applications. However, it wasn't until April 19, 1943, that he experienced the substance's effects firsthand, unintentionally becoming the first human to undergo a psychedelic experience with acid (the infamous bicycle day). This event marked the birth of a new era in consciousness exploration.
..
Hofmann's inquisitiveness and scientific rigour prompted him to conduct extensive self-experiments to unravel LSD's potential. He documented his experiences meticulously, a practice that laid the groundwork for future research in the field. The profound alterations in perception, the dissolution of ego boundaries, and the kaleidoscopic journeys into the mind's labyrinthine corridors fueled Hofmann's conviction that LSD held unparalleled promise as a tool for unlocking the mysteries of consciousness.
..
Philosophy: The Psychedelic Experience as a Gateway to Insight
..
Albert Hofmann's involvement with LSD went beyond the realm of empirical science; it traversed the terrain of philosophy and spirituality. For Hofmann, the psychedelic experience was a gateway to profound insight—a means to access dimensions of consciousness that lay dormant in everyday life. He believed that psychedelics had the potential to catalyze a shift in human perspective, fostering empathy, connection, and a renewed reverence for nature.
..
Hofmann's philosophy was intrinsically tied to his own experiences. He advocated for the responsible and mindful use of psychedelics, cautioning against their indiscriminate consumption. His belief in the transformative power of these substances coexisted with his concern for their potential misuse, underscoring the importance of education and informed exploration.
..
Legacy: A Catalyst for Psychedelic Research and Cultural Shift
.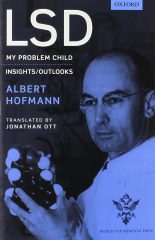 .
Albert Hofmann's legacy is woven into the fabric of contemporary psychedelic research and the broader cultural discourse surrounding altered states of consciousness. His ground-breaking discovery of LSD propelled the substance into the forefront of scientific inquiry, birthing a movement that sought to unravel the intricacies of the mind and its connection to the universe.
.
Hofmann's work influenced a myriad of disciplines, from psychology and neuroscience to art and spirituality. The 1960s witnessed a surge of interest in psychedelics, accompanied by a fervent countercultural movement that embraced these substances as vehicles for spiritual transcendence and societal critique. While this era eventually waned, Hofmann's contributions spurred a revival of scientific interest in recent decades, as researchers explore the potential therapeutic applications of psychedelics in addressing mental health issues such as depression, anxiety, and post-traumatic stress disorder.
.
To dive deeper into all things Hofmann, here are some reading recommendations:
.
LSD My Problem Child: Reflections on Sacred Drugs, Mysticism and Science (1979)

Plants of the Gods: Their Sacred, Healing, and Hallucinogenic Powers (1979)

Hofmann's Elixir: LSD and the New Eleusis (2008)

Mystic Chemist: The Life of Albert Hofmann and His Discovery of LSD (2011)

LSD and the Divine Scientist: The Final Thoughts and Reflections of Albert Hofmann (2013)
.
In Conclusion: Bridging Science, Philosophy, and Exploration
.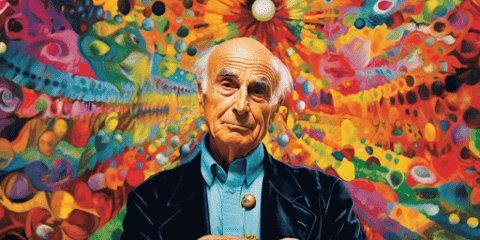 .
Albert Hofmann's life and legacy underscore the intricate interplay between scientific inquiry, personal experience, and philosophical contemplation. His accidental discovery of LSD transcended the realm of chemistry, propelling him into the heart of a discourse that challenged conventional perceptions of consciousness and reality. As we navigate an era marked by renewed interest in psychedelics, Hofmann's name stands as a testament to the power of human curiosity and the boundless potential for discovery.
..
Note: If you're suffering from a mental illness and are curious about using psilocybin or any other psychedelic therapy, please consult one of the relevant medical authorities first. Do not self-prescribe, it's vital to have the right support and guidance when using psychedelics as medicine.