Psychedelic Couples Counseling, Tripping Together?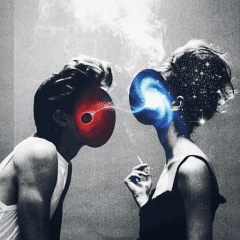 Are you struggling to connect, communicate, or resolve conflict with your beloved? Maybe you feel trapped in a rut with resentment building on both sides of the trenches. Or maybe you just want to go deeper into the intimacy between the two of you and share a unique experience together. Exploring psychedelics with your partner can open the door to all this and more.
Psychedelics are gaining evermore prominence and approval as a form of therapeutic treatment, sparking conversations on their use for couples. Research and personal stories tell us that they can help detangle unconscious behaviors and return to a place of more loving relating. For some couples, sharing a psychedelic experience allows them to examine the relationship from a totally new perspective.
.
Many people around the world and across cultures use psychedelics to gain personal clarity and insight… so why not incorporate them into the exploration of your relationship, and make use of them as tools to heal and escape overly familiar (and less than healthy) relationship patterns?
..
History of Psychedelic Couples Therapy
.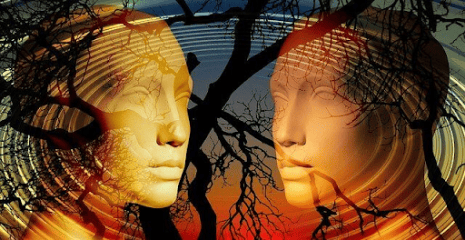 .
The idea of using psychedelics for couples therapy is older than you may think. Quietly, in the 1970s, therapists began to offer MDMA to their clients and witnessed how it could stimulate empathy and compassion. Some pioneers of this were Alexander "Sasha" and Ann Shulgin, a couple who synthesized psychedelics and explicitly spoke about how it impacted their relationship in their book PiHKAL: A Chemical Love Story.
.
In the 1980s, many other researchers, like George Greer and Requa Tolbert offered MDMA-assisted psychotherapy and saw how it could help navigate relationship issues, and open more honest and compassionate communication. Yet eventually the substances were made illegal and this form of couples therapy went underground.
.
The current renaissance and rise of awareness around psychedelics have led to many couples experimenting with taking these substances together to resolve issues, enable deeper communication, and share a meaningful and potentially euphoric experience.
.
Whether you're interested in a more do-it-yourself approach or seek the support of a professional guide, let's look at the power of psychedelics for lovers….
...
How to Set Up a Session
.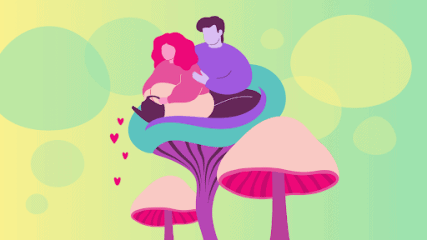 .
The shape your experience unfolds into depends on whether you go in for a professional therapy session, or if you take matters into your own hands.
.
If you're creating the experience on your own, cultivate a set and setting that allows you and your partner to have the maximum feeling of safety and comfort. Prepare the space with all the ingredients and toys you think you may need ─ music, blankets, creative instruments…whatever tickles your fancy. Consider where you want to trip: for example, having nature around is always supportive.
.
Ideally, you and your partner will dedicate some time (a day or two) to prepare for the experience, have the trip, and integrate afterward. Set an intention that is personal to the two of you and based on what you are going through in the partnership. It is important to remember that the substances are not offering a means to escape issues, and it is a good idea to establish what you both are wanting from the experience before diving in. Is it deep dialogues and processing, is it more physical intimacy… is it all of the above?
.
If you, your partner, or both of you are very new to the world of psychedelics, it can be a good idea to invite a trip sitter ─ someone experienced with psychedelics and perhaps with some training or awareness of counseling methods would be best.
.
If you choose to go the more clinical/professional path there are many retreat centers and psychedelic therapy programs popping up all over the world, in which couples are supported and guided through the preparation, psychedelic experience, and integration afterward.
. . .
What to Take
.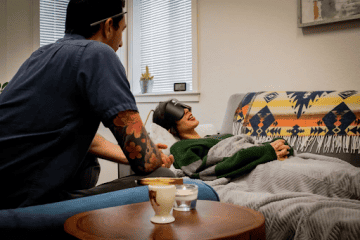 .
MDMA-Assisted
.
Once thought only to be a party drug, MDMA is showing an amazing number of mental health benefits. It causes the brain to release oxytocin, a natural hormone that has been associated with feelings of love, intimacy and trust. It also seems to reduce activity in the amygdala, the center that stores emotional stories especially those related to anger and pain. MDMA can help to access and release traumatic memories in a way that can support understanding and connection within a partnership. It also helps allow for more empathic and compassionate communication, to promote love and understanding.
.
Ketamine-Assisted
.
Ketamine is most commonly used in a clinical psychotherapeutic setting as it is a regulated substance and, so far, is the only psychedelic approved to treat depression. It works by blocking glutamate, a neurotransmitter that has been connected to the effects of depression. The effects of ketamine can help soften your habitual defence mechanisms, release inner walls and resentments, reduce tension and anxiety in the body, and offer clarity that can help you to examine your internal narrative in a different way.
.
Psilocybin-Assisted
.
Magic mushrooms help to shift activation away from the default mode network, allowing us to form new connections across different areas of the brain. Mushrooms can be incredibly useful for gaining new insights into old problems or shedding light on familiar projections and toxic patterns in your partnership(s). They can also help to melt the usual walls or filters that may inhibit or trap the relationship in its current stage of growth.
..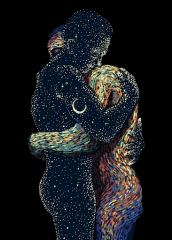 .
Benefits
.
The focus of traditional couples therapy is on establishing healthier communication and providing a source of conflict resolution. In any form of relating, but especially in our more intimate dynamics, it is normal that strains, tensions, projections, and psychological patterns pop up.
.
A shared psychedelic experience can help us to interrupt these negative patterns, allowing us to drop the stories of shame, blame, defensiveness, and fear in our partnerships. These substances can help us shed hard protective layers, opening us up to greater vulnerability and authenticity, while promoting feelings of safety and security with one another. In doing so, they can support increased emotional and physical intimacy.
.
In higher doses, psychedelics can even offer feelings of boundlessness, deep connection, unity. When shared with a partner or lover, this profound self-transformation becomes intrapersonal, infusing a sense of play, joy, and connection back into the partnership.
.
While there is no such thing as a magic pill you can take to resolve all the issues between you and your love, exploring different approaches, such as psychedelic couples therapy, can deliver a lot of healing and insight into your relationships.
.
Note: If you're suffering from a mental illness and are curious about using psilocybin or any other psychedelic therapy, please consult one of the relevant medical authorities first. Do not self-prescribe, it's vital to have the right support and guidance when using psychedelics as medicine.