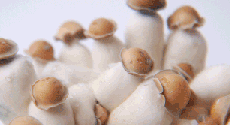 Again Terence McKenna brought a strain in our magic mushroom world that is loved by us. It's believed that McKenna took this strain from all over the Amazon jungle to introduce it to Steven Pollock.
Pollock got busy with trying this new strain. But one day, Pollock didn't show up on a date with his girlfriend. He was found dead in his house. The police confiscated 1,758 jars filled with mushrooms and ten pounds of psychedelic truffles.
"At Pollock's funeral, his breast pocket was filled with magic truffles and his arms were crossed over his chest. One hand held a mushroom collected in the Mexican village of Matias Romero, the other clutched the last surviving penis mushroom". (also see Vice for the full article about it)
So Dr. Pollock left us a potent and beautiful mushroom strain at the end of his life. Peace and respect to Dr. Steven Pollock so sad he was murdered.
You can buy the Supa Envy magic mushroom grow kit online: