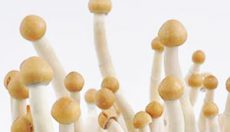 The Mexican magic mushrooms are among all magic mushrooms probably the most well known around the world. Gordon Wasson referred to the "mushrooms of the gods" in a Life Magazine article, published in May 13, 1957.
The Mazatapec strain comes from the Mexican highlands. Mushrooms grow large and abundant. The hats of the mushrooms are wide and have a light shade of brown.
The Mexican mushrooms are often tried by people for the first time, though this is an all round mushroom. Mexicans have slim stems and large, often wavy caps with a light brown colour.
Our customers wrote many reviews about the Mexican mushrooms, many people talk about the ease of growing and big yields.
Buy the Mexican or Mazatapec magic mushroom grow kit and spores online