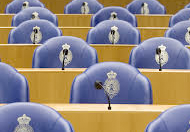 Kamervragen Pv/dA over Truffel gebruik en verkoop
 Tweede kamerlid
Lea Brouwmeester
heeft op haar persoonlijke website de kamervragen gepost welke zij ,na aanleiding van het
krantenartikel
in dagblad
De Trouw
, in het parlement heeft gesteld. Om iedereen voldoende te informeren over de opleving van het
paddenstoelen
en
truffel
topic hebben wij (MMS) deze vragen op een rij gezet. Hopelijk worden de Ministers in het Kabinet eens wijs en zorgen zij voor een goede regulering in de
verkoop van truffels
.
De vragen
Schriftelijke vragen gesteld over psychedelische truffelsVandaag heb ik schriftelijke vragen gesteld aan de minister van Veiligheid en Justitie en de minister van Volksgezondheid, Welzijn en Sport naar aanleiding van berichting in Trouw over de psychedelische truffel.De vragen kunt u hieronder lezen en worden binnen 3 weken beantwoord.Vragen van het lid Bouwmeester (PvdA) aan de minister van Veiligheid en Justitie en de minister van Volksgezondheid, Welzijn en Sport over psychedelische truffels
1. Heeft u kennis genomen van de artikelen 'Psychedelisch truffel net zo populair als eerder de paddo' en 'Truffelverbod stimuleert synthetische drugs" (Trouw 1 december 2011)
2. Is het waar dat psychedelische truffels niet onder een van de lijsten van de Opiumwet vallen? Zo ja, was dat bekend toen de paddo's op de lijst van de Opiumwet werden geplaatst?
3. Is het u bekend dat, sinds het verbod op paddo's er is, er een verschuiving plaatsvindt van het gebruik van paddo's naar psychedelische truffels? Zo ja, heeft u met dit effect rekening gehouden op het moment dat u paddo's ging verbieden?
4. Deelt u de mening dat het vrijwel onmogelijk is om een verbod op hallucinerende of psychedelische middelen door middel van plaatsing op een lijst te handhaven aangezien er steeds nieuwe middelen met een dergelijke werking ontdekt worden die in de natuur aanwezig zijn? Zo ja, deelt u dan ook de mening dat het beter is om mensen te informeren en adviseren over het gebruik ervan in plaats van het steeds verbieden van deze middelen om vervolgens te moeten constateren bij dat er bij de handhaving achter de feiten wordt aangelopen? Zo nee, kunt u dan met cijfers onderbouwd aantonen dat het verbod op paddo's daadwerkelijk tot een vermindering van het gebruik van hallucinerende, psychedelische of anders drugs heeft geleid?
5. Kent u alle middelen die wereldwijd in de natuur bekend staan vanwege hun hallucinerende of psychedelische werking? Zo ja, hoe kunt u die allemaal kennen en bent u voornemens die allemaal te gaan verbieden? Zo nee, wat zegt dat dan over de waarde van het opnemen van paddo's op lijst 2 van de Opiumwet?
6. Deelt u de mening dat de natuur zich niet laat afremmen door wetten en dat de lijsten met hallucinerende middelen nooit compleet kunnen worden? Zo ja. erkent u dan dat beter ingezet kan worden op voorlichting zodat mensen zich bewust worden van de producten die ze gebruiken? Zo nee waarom niet?
7. Heeft u kennis genomen van het feit dat psychedelische truffels worden verkocht in souvenirshops? Deelt u de mening dat dat onwenselijk is en dat het beter is om de verkoop te reguleren via verkooppunten die verantwoord om gaan met het verstrekken van drugs zoals de meeste coffeeshops? Zo ja, hoe gaat u die gereguleerde verkoop bewerkstelligen? Zo nee, waarom vindt u het beter om psychedelische truffels via souvenirshops te laten verkopen?
Bron: http://www.leabouwmeester.pvda.nl/nieuws/nieuws/2011/12/schriftelijke+vragen+truffels.html
Vragen over truffels of een keer zelf proberen voordat u alle comments voorziet van onervaren commentaar?