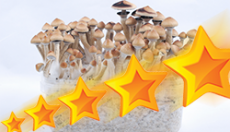 Let's start with a big THANK YOU to all of you who have placed a product review about our mushrooms grow kits. We are excited to see that our customers give us transparent input, so we can preserve the quality and our beloved customer support. In this blog post we have made a top 10 selection from the best rated and funniest reviews on our website.
Enjoy and feel free to spread the word and share your experience in a review!
1. 'It's amazing product' Review by Maksim about our Magic Mushroom Grow Kit Combi Pack [Rated: ****]
Your mushrooms given me a clear understanding that love is life and that life is love. Without love life does not exist. Your product is a dialog with God. Thank you a lot, sweeting angels.
(Posted on 1/8/13)
2. 'Perfect !!' Review by KanonenKalle about our Magic Mushroom Grow Kit Combi Pack [Rated: ****]
Everything went good.
So, I did take two of these boxes and results was high class, makes big flush and remember to be careful with these because they work after eating like 8h and super trippy :) thanks guys again!
(Posted on 5/9/13)
4. 'Indian Super Giants' Review by Alexander about our Odessa India Mushroom Grow Kit [Rated: ****]
I'm in the process of growing P. Orissa as it is currently the "100% colonized special". And I tell you what.. These guys exceeded my expectations by far! When I poured in water for the first time it nearly didn't soak up water at all because of how colonized it is X-) Just to make sure everything was peachy I sent the Team a message and got great and quick feedback where I was basically reassured so to sum it all up..
First flush: just under half a kilo fresh (!!!)
Second : Incredible fruit-formation, but 30-40% less because I harvested rather poorly
first time around (leaving some stubs attached to casing-layer)
Third flush: Waiting to see, I'm soaking the box up again to night!
Great price, great strain, great staff! I'm very satisfied and having incredible break-through trips; never straying away always coming back to myself and feeling refreshed and just.. right. Pure medicine, pure spirit!
5. 'Amazingly Wonderful' Review by Flamingo  Amazo about our B+(B Plus) Mushroom Grow Kit [Rated: ****]
Strong and huge mushrooms, awesome hippie trip, ego cleansing, deep connection to inner wisdom, changed me to a better person, Thank you very much for making this world a better place, peace & love
(Posted on 6/6/13)
6. 'Astounding!' Review by Philip B+(B Plus) Mushroom Grow Kit [Rated: ****]
It really is as simple as it's made out. This is the first time I have ever grown shrooms: and how simple it was! The package arrived within a few days. I merely followed the intructions; and about 13 days later many mushrooms poked through.
145g from the first flush!
[...] I would certainly recommend
these shrooms
! EXCELLENT!!
The second flush is on its way through and looks impressive!
The customer service is top rate! Perhaps the best I've experienced: quick, polite, helpful, effective.
The shrooms are easy to grow and top notch too!
What more can I say? Well done MMS!
(Posted on 11/2/12)
7. 'My First Mushrooms... Impressed!' Review by Tommy Walker about the Cambodian Mushroom Grow Kit [Rated: ****]
I'm an old fogey now, but in my youth had lots of fun smoking and dropping tabs. One thing I'd never done were mushrooms and now I'm retired I want to enjoy life once again :D
Found these soooo easy to grow! Just harvested my 4th flush, (flushes from 200~165gms). The 'shrooms get larger as you go, (biggest so far was 59gms!). My first 'dabble' was about 25gms fresh and I had several hours of fun at home grooving out to music with tons of closed eye stuff going on, and some open eye fun too, (the fairies in the famous painting 'Fairy Dance' by W.H. Sullivan were doing techno moves and the face of the piper was my face changing rapidly throughout the years!) . My second dose was a week later with a walk in the country with about 40gms fresh. After an hour... Bam!... Completely zonked out on a footpath by a pond. Managed to walk a wonderful half mile and then... Bam!... another total crashed out stoning... Aztec faces in the sky and everything!...and so the day went on!! Very impressed... Tons of dried stuff now stashed away, so as I can pass the rest of the summer in a joyous haze :D Now to place an order for another variety too coz I am sooo greedy!!
Magic-mushrooms-shop.com
knows what they are doing! All the mycelium boxes I've ordered from them has been great, and the latest 2 boxes of
Mexican
was excellent. They were for the awesome annual New Years Trip (there's nothing like fireworks while tripping!!!), and they delivered what you would expect and more.
Payment and delivery: great service.
Growing: kits better than ever. Several solid flushes.
Effects: what you would expect if you've tried them before. If you want to trip for the first time - they are easy, playful and euphoric. Listen to music, dance, let loose and have soft things around. Would recommend not to take less than 2g dried. 3g is perfect for an easy and awesome trip.. I once saw myself as an
Alex Grey
-painting in the mirror on 4,5g on these ;)
Well, what can I say?
I've tried various types of the mushrooms you have to offer, but, the other night, I had the most fantastic trip ever.
As I'm experienced, and as I've always loved tripping, I decided to try 20 grams of dried Treasure Coast....and I saw colours I never knew existed.....I left my body behind for a few hours and strangest of all, time was running backwards....literally!!!
The world around me started to digitize, kind of like when your tv starts to break up and digitize!!!
It was the most multi dimentional experience I've ever experienced.
Absolutely amazing.
Frank
10. 'Trip' Review by Shroomish about our McKenna Mushroom Grow Kit [Rated ****]
Healthy flush, realised I am the face behind the all seeing, me and my bro laughed like little girls, tears of job, visuals were unreal, my pal seen an angel, will never look at trees the same again. Recomend them to anybody, amazing afternoon. 5 stars easy
(Posted on 8/20/12)