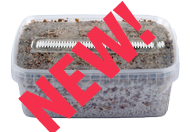 We introduce to you some new and outstanding growkits:
Orissa India Myceliumbox
Texas Myceliumbox
The India Orissa is the first cubensis strain from Indiain our collection. The Orissa is often found growing on elephant dung and than generating big stems and huge caps. The India Orissa can even out grow the B+.The first flush will produce lots of medium sized mushrooms. Next flushes are a slightly smaller but will produce much larger Indian Orissa mushrooms.
The Texas cubensis is a very meaty cubensis. The Texas is strong and grows quite well when the growing conditions are not optimal. Texas has wide hats of a light brown colour.
Besides the Orissa and the Texas we have the widest variety of growboxes on for sale!