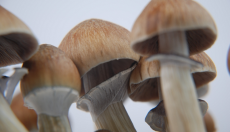 Nadat je paddo kweekset is gestart en de eerste paddo's groeien zal je je af vragen wanneer je de paddo kweekset moet oogsten. In deze post zal ik uitleggen wanneer je de paddo kweekset kan oogsten en hoe je de paddo's moet plukken.
Wanneer kan je de paddo's oogsten
Meestal komen de eerste paddo's twee weken na de start van de paddo kweekset op. In het begin zijn ze nog klein en worden pins genoemd. Naarmate ze groter worden zie je de vorm van de paddenstoel veranderen ze worden volwassen. De steel van de paddo word groter en de hoed gaat langzaam open. Als de hoed helemaal open is zal de paddo zijn sporen kwijt raken en daarna zal de paddo afsterven. Het juiste moment van plukken is voordat de sluier/vlies ,tussen de hoed en de steel van de paddo, los laat. Dit kan snel gebeuren, tussen de 5 en 12 dagen nadat de paddo's op komen. Er wordt gezegd dat op het moment voordat/nadat het vlies breekt de paddo zijn optimale potentie heeft. "The secret to potent mushrooms is in their age when picked. It has been scientifically proven that the small immature speciments are more potent than the larger mature speciments" Psylocybe Fanaticus, uit PF-Tek instructions booklet. PF Tek handleiding Vaak is het lastig om precies het juiste moment te vinden voor het oogsten, daarom is de standaard regel: oogst je paddo kweekset als de hoed van de paddo's net open gaan of net voordat ze open gaan.
Hoe moet je de paddo's plukken
De makkelijkste manier om de paddo's uit de kweekset te oogsten is door ze onder aan de steel vast te pakken en te draaien. De paddo's komen dan vanzelf los van het substraat waaruit de paddo's groeien. We hebben een filmpje gemaakt waar je in kan zien hoe je de paddo's moet plukken. Was van te voren wel even je handen of gebruik handschoenen bij het paddo oogsten. How to harvest mushrooms from a grow kit from Get Magic on Vimeo.
De hele paddo kweekset oogsten
Vaak zijn sommige paddo's klaar om te oogsten en zijn andere paddo's nog heel klein. Hoewel de grootte van de paddo's niet veel uitmaakt voor de sterkte kan je de wat kleine paddo's best nog even door laten groeien. Pluk ze we als de paddo's het stadium van pin niet ontgroeien. De Aborts, zoals de de niet groeiende pins heten, zullen niet verder groeien. Gooi ze ook niet weg, want er zit genoeg "magic" in de pins voor een trip. Wil je de paddo kweekset klaar maken voor de volgende flush dan moet je wel alle paddo's plukken. Maak het substraat zo schoon mogelijk door alle restanten er af te halen.
Wat kan je na het oogsten doen
Na het oogsten kun je de paddo kweekset op nieuw soaken of de luchtvochtigheid in de kweekzak weer op peil brengen door er water in te nevelen. Hier mee maak je het substraat weer vochtig en wordt het mycelium geactiveerd om weer paddo's te groeien. Het is mogelijk om meerdere flushes paddo's uit een paddo kweekset te halen. Lees altijd goed de paddo kweekset handleiding door. Paddo kweeksets bestellen kan hier: