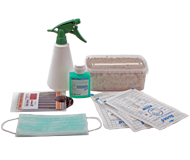 Mushroom Starter and Discount packs
The Starter Pack contains everything you need (besides water) to ensure you get the highest yield possible out of the magic mushroom kits.
The all in one pack contains  disinfectant handgel, gloves, and a face mask for extra hygiene. To keep the temperature at an optimum, a thermo mat is included (not with Supagro). You can choose from Standard mushroom kit SupaGro mushroom kit or FresMushroom kit. starter pack.
Want different strians at a discount or a combination of differnet brands? Choose the mushroom Combi pack or the discount packages.
7 Product(s) matching your selection