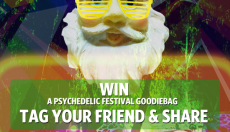 Summer has almost started and that means that festivals are popping up again. There is no better way to get your groove than dancing to the music with a higher state of mind. We would like to help you out a little in our new bi-weekly Facebook contest.
THE COMPETITION IS CLOSED! NEW CHANCE IN TWO WEEKS
Compete, win and dance your ass off!
How can you participate? It's real easy.. Go and LIKE our Magic Mushrooms Shop Facebook page. Search for the contest on the wall, TAG your friend in the comment and SHARE.
Magic Mushrooms Shop contest terms
- Make sure you SHARE and TAG your friend in the COMMENT, otherwise you can not win - Share and Tag as many times as you want - Previous Winners from the last 3 months can not WIN until the time has past (so we keep everybody happy..) - Party on! - Winner will receive a psychedelic festival goodiebag - Check your country restrictions on psychedelic supplies before entering the contest