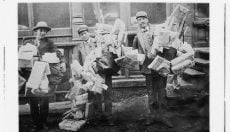 Hello Magic Friends!,
Due to the upcoming holidays we can not ship on all the days of the week. Also Customer Service is closed at the end of the year. Last shipping is Thursday 23th of December and first Shipping day is 3th of January. Customer Support is closed during these days too.
No shipping from 24th December until 03 January.
- Last shipping day is Thursday 23 December 2020
- First shipping day is Monday 03 January 2021

Customer Service is Closed on 24th December until 03 January.
We are taking a break and will miss your questions and stories while we are away. Because we are not at work you will be getting:

- No replies to your ticket
- No updates of orders

- Do not submit a ticket if you have a question :)

You will be getting an answer on your questions as soon as possible!
Shipping on 3th of January again
We will be back with you on the 3th of January packing and shipping your orders. First ordered will be first processed for shipment. We will be shipping all packages and orders until our stock runs out. If you didn't get an tracking number on the 3th of January, you can expect it to be shipped out on the 6th or 7th of January.
Were can I find information?
Can is still order ?
Yes,! You can still order. The Magic Mushrooms Shop is open for incoming orders. But nothing will be shipped before the 2th of January and the status of you order will not be updated.
In the mean while we will be doing some maintenance work on the website to improve your customer experience and count our stock to close the books for 2020.
You Guys have some great days :) We wish everyone a Psychedelic 2022! It can only get better then 2021 !
Stay safe, do drugs ;)
Magic Support Team