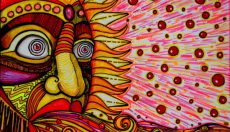 " Sun is shining, the weather is sweet,
Make you want to move your dancing feet,
To the rescue, here I am! "
Heat wave, No shipping!
Attention! Due to a local heatwave, we cannot guarantee the quality of the grow kits, spore vials and syringes upon their arrival. Therefore all orders with grow kits and/or spores will be shipped on Monday 30th of July. Our apologies for the delay.
Mycelium and Heat
The mycelium in the grow kit is a living product that prefers a colder environment than a transport van or warehouse can offer. Temperatures above 30 Celsius degrees will lower the quality of the kit or will destroy it eventually when the products are in transport for a longer time.
Keep it cool!
Perfect conditions for fruiting are around 24 degrees Celsius and a high humidity, but if you want to wait growing keep your kit stored cool. A clean fridge will do the trick !
Is my order shipped?
We will pack and shipped all orders on Tuesday the 24th. If your order does not contain a grow kit or spores it will be shipped. For the rest your order will be the first to be shipped with love on Monday 30th !