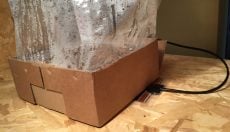 Magic mushroom Grow kit video instructions
The easiest method of showing you how to use our magic mushroom grow kits, is by showing how a magic mushroom grow kit is prepared by means of a video. The complete process will be explained clearly in the instruction videos below
There are different ways to start a ready to grow magic mushroom kit or SupaGro mushroom kit please look at the strain of your kit and follow that instruction. NOTICE: We are working on new instruction videos the ones below are outdated!
Read all up to date magic mushroom grow instructions on our websites instructions page
For all magic mushroom grow kits look at this instruction video:
This grow kit instruction recommends to use a fork, we do not think it is needed.

Follow the instructions in this video:
These instructions will work for most grow kits purchased online. What can different? :
The soaking time 6-24 hours
The use of a fork to puncture the substrate for the water.
The temerature
Old video's: Use for B+. Mexican/Mazatapec and Cambodian
You have purchased a magic mushrooms grow kit, how do I proceed?
Grow Kit Preparation Type 1: 1/2 from Get Magic on Vimeo.
After you have soaked your grow kit for twelve hours, you continue with the next video:
Grow Kit Preparation Type 1: 2/2 from Get Magic on Vimeo.
Now put your grow kit on a warm spot (between 20°C and 25°C),but not in direct sunlight.
Under these condition you will be harvesting your first fresh mushrooms after little more than two weeks.
After the harvest you should not throw out your grow kit, because you can do the steps shown in both video's over and over until your kit is depleted. Sometimes even up to four harvest can be obtained.
We also have a quickstart with pictures and a more detailed instruction manual in text available.