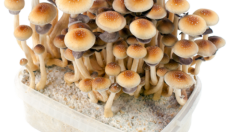 Cultivating magic mushrooms can be a lot of fun. Taking care of the substrate and picking your own fresh mushrooms can be very rewarding. Nevertheless, if you are looking for quicker and no-frills results, we have what you need to cater to your needs: our 1200ml FreshMushrooms 100% Mycelium kits, they are fast and they produce some very generous and potent flushes.
.
What is so special about our FreshMushroom 100% Mycelium kits?
.
There is one characteristic that makes them really popular, and that is the ease with which you can produce your own magic mushrooms, These kits are completely maintenance-free
thanks to a fully colonized substrate without fillers. You hardly have to do anything to get your first flush with high levels of psilocin. No water needed at least during the first part of the process. (check our "how-to here")
.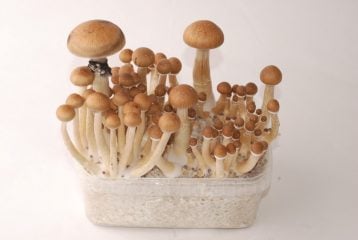 .
100% mycelium colonized substrate
.
Mycelium, a thread-like collection of cells that is the vegetative growth of a fungus. When a bread or tomato rot, you can see spiderweb-like structures growing. Those strings can be white or cream-colored and it can grow in long fibers, that structure is the vegetative structure of fungi called the mycelium. It is to a mushroom what an orange tree is to an orange. You need to have one as the base for producing the other.
The 100% mycelium magic mushroom kits are filled with mycelium all the way to the top! In other words; this kit is ready to go!
Another thing that makes these kits special is the fact that it has a rye-based substrate with no filling layers of vermiculite and perlite.
.
Freshmushroom® grow kits are Extremely Potent
.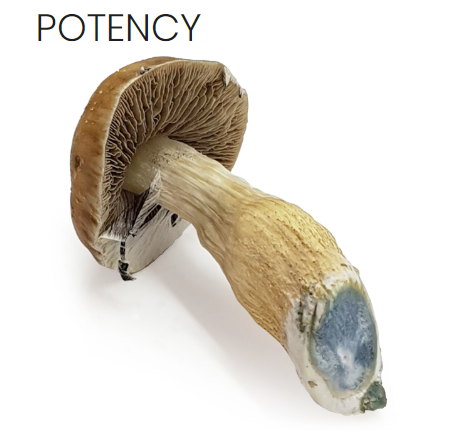 .
Freshmushrooms grow kits will give you the highest level of psilocin, as you can see in the picture, the stems from the brand are not hollow, they are dense, more solid than other brands can offer, moreover, they are blue, a clear indication that there is a lot of psilocin, which along with psilocybin, is the hallucinogenic principles in the psilocybe type mushrooms.
Knowing this about Freshmushrooms is great as you can consume fewer quantities to experience the trip you want.
.
Highest Yield
.
Thanks to the high mycelium content which densely populates the kit, the 1200 ml kit can deliver several flushes, up to 4 to be exact. Each flush can yield 500g to 800g of fresh mushrooms (dried 50g to 80g)
Of course, it all depends on how you manage the cultivation process, if the harvest is done in a timely manner and with care (before the spores fall into the substrate).
.
Various strains available
.
We have a wide variety of exotic strains, 7 to be exact. let's take a look at each of them:
.
.
The Amazon grow kit by FreshMushrooms® grows mystic and mind-bending psilocybe cubensis magic mushrooms. It is the editor's choice of vessels that will allow you to sail and encounter the fabric of the universe.
.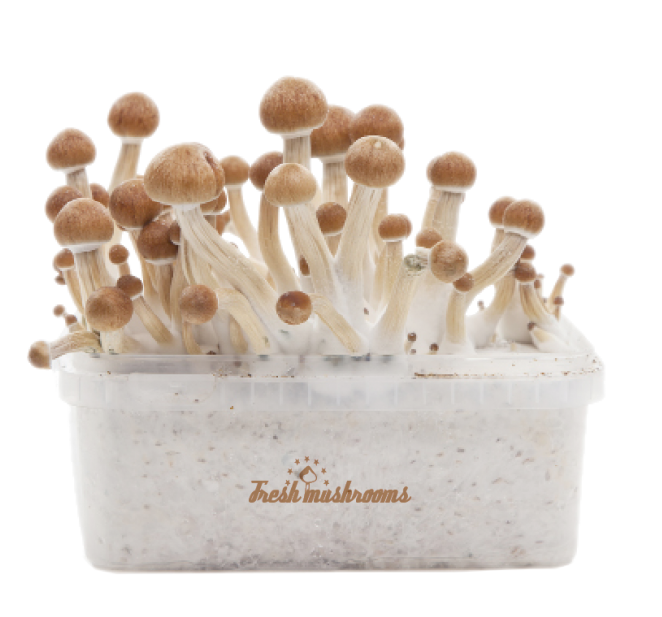 .
.
The wise Golden Teacher magic mushrooms create magic in the mind and guides into a journey of philosophy and self-knowledge. When you have questions that require answers you may follow the enlightening path of the Golden Teacher magic mushrooms.
.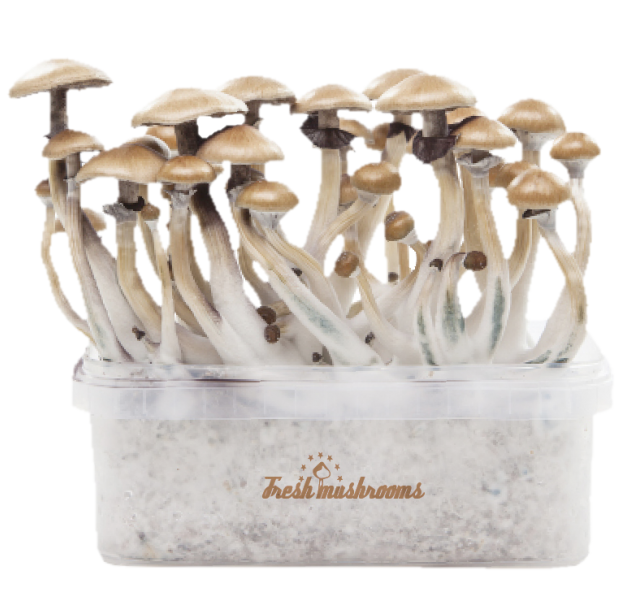 :
.
The way the McKennaii magic mushrooms grow is as outlandish as their effect. The caps go from big to small, straight to bent, thick to thin stems, with yellow to dark brown colors. Be prepared for anything. The trip can go deep, colorful, speedy, and even sexual.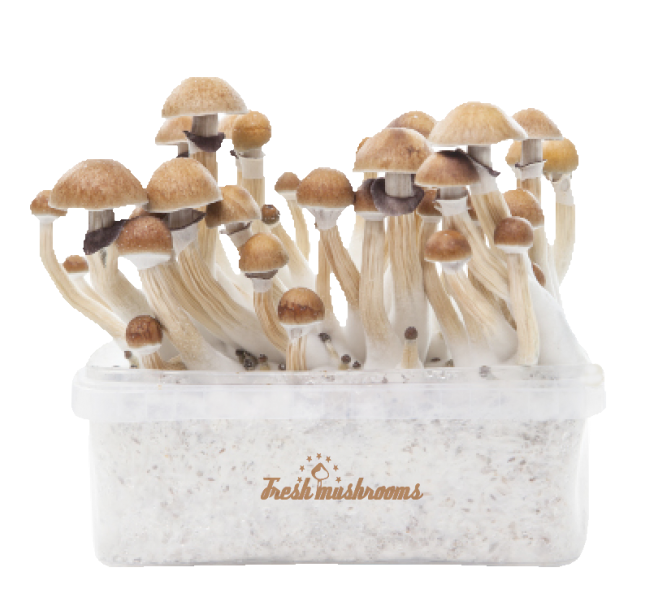 .
.
The B+ magic mushroom is a strong and easy-to-grow Psilocybe cubensis strain. B+ Magic mushrooms are a good choice for beginners and regular growers. The FreshMushrooms® B+ grow kit is very low in maintenance. The XP stands for Extra Potency!
.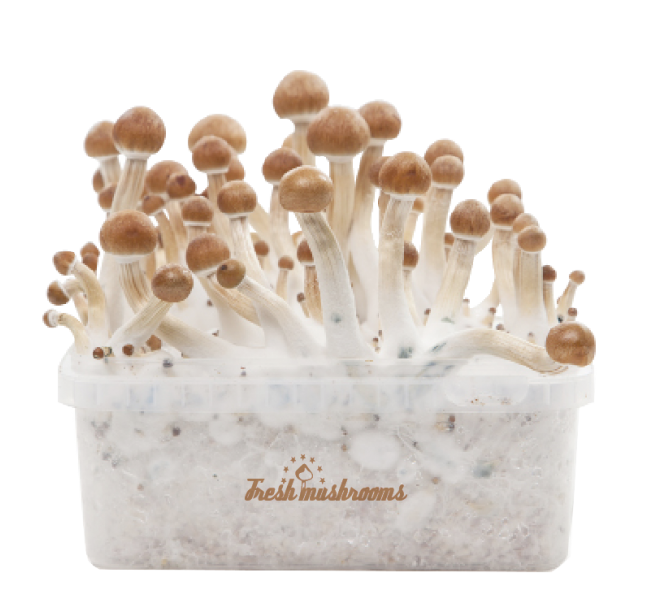 -
.
Ecuadorian cubensis magic mushrooms are for the spiritual entrepreneurs. The FreshMushrooms® Ecuador is an easy to grow cubensis that is not extremely potent, but the effects are very refined and dazzling at the same time. Bend time and space with the Ecuador magic mushroom grow kit.
.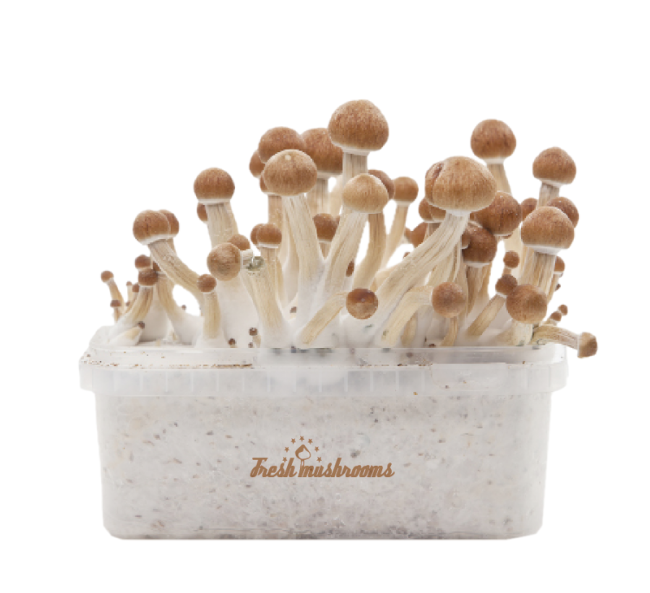 .
.
This Mexican magic mushroom kit by FreshMushrooms® is a classic psilocybe cubensis. The Mexican mushroom will give you an intense and deep trip. Often taken by first-timers, we do recommend the Mexican Magic Mushrooms to the more experienced psychonauts.
.
.
The Colombian magic mushroom is a bombshell that has been the psychonauts favorite for years until it has been passed in popularity by other potent cubensis strains. Unfair and undeserved if you ask us because it is a beauty! The Colombian does take some more expertise and attention, so it is recommended only to advanced magic mushroom cultivators.
.