Shipping Information
Were do we ship?
Not all products can be shipped to all countries, some products have shipping restrictions. You can find these restrictions in the products' additional information. Be aware that it is the customers responsibility to order only those products that are legal in their country. Magic-spore-shop.com is not aware of the legal status of our products are in other countries. For more information, we would like to direct you to the website of your government.
Your shipping Address
Make sure that the shipping address is a residential or a company address. Do not use a PO-box, Post-office or packingstation as a shipping address. If you want us to ship to a PO-box, Post-office or packingstation please contact us on our
supportpage
.
Please double check your shipping address when you make an order. Make sure a fullname, streetname, house number, zip/postal code, city and country are in the address. When the order is shipped the address can not be changed!

Discrete packaging
There is no indication on the outside of the parcel what the contents is. The packages do not contain invoices, packaging lists or instructions. These are only available digitally. A copy can be requested at any time.
Note: When shipping outside of the EU, we are oblidged to put an invoice on the outside of the parcel that has been generated by UPS. Growkits and spores are always mentioned as Student Mycology Products or Student Microscopy Set and the prices are ex VAT / TAX. Customers outside the EU might be charged additional import rights and TAX upon delivery.
What shipping methods can I choose from?

We offer two shipping methods. We try to offer the lowest price possible and to ensure you get your parcel quickly and undamaged on your doorstep.
| | | |
| --- | --- | --- |
| Shipping method | Real time tracking | Details |
| PostNL | No | We offer the package to PostNL. PostNL will have sister comanies deliver the package in your country. Sister companies can be DPD; GLS; MRW; Local postal services or other companies. |
| UPS Standard / Express Saver | Yes | Fast shipping. We recommend this method. Parcels arrive quickly and are offered upo to three times in case the recipient is not at home. |

How much do I pay for shipping?

The prices depend on several conditions: the country of destination ; the shipping method and the total weight of your order. If you are interested in how much shipping is it is easy to find out.
Here is how:
| | | |
| --- | --- | --- |
| 1. Add the product(s) to your cart | 2. In your shopping cart, select the country of shipment and click on the button "Get a quote". | 3. The available shipping methods and the prices including tax are now shown underneath. |
| | | |
When will I receive my order?
When we receive your payment, your order will be processed. You will be notified of this by email. Your order will be shipped the same or next business day. After the order is handed to the shipping company you will receive another email with the tracking code. UPS tracking will give thye estimated date of delivery and PostNL deliveries will take from 2-10 business days.
UPS Standard
Look at the picture below to see how many business days it will be for your parcel to arrive when you choose for the UPS Standard service.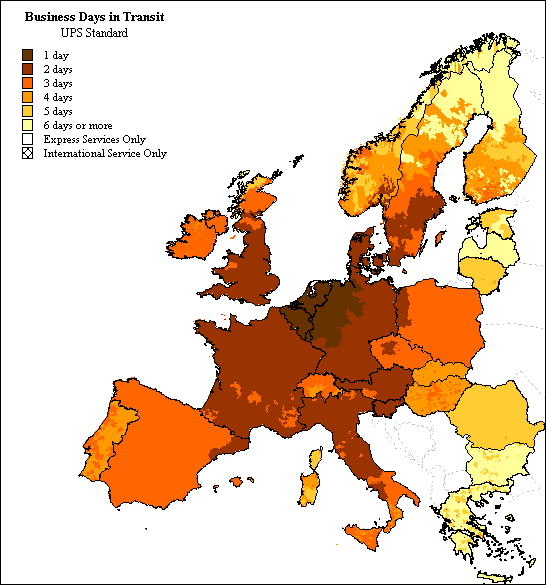 PostNL
Beneath you will find an indications TNT provides on the shipping days. Note thas this is only an indication, Actual shipment might take longer. It might be possible we do not ship to the countries below, or the shipping method is not available for your country.
| | | | | | |
| --- | --- | --- | --- | --- | --- |
| | Country | Days in Transit | | Country | Days in Transit |
| | Andorra | 2 - 3 | | Liechtenstein | 3 - 4 |
| | Austria | 2 - 3 | | Lithuania | 10 - 12 |
| | Belgium | 2 - 3 | | Luxembourg | 2 - 3 |
| | Bulgaria | 7 - 9 | | Macedonia | 7 - 9 |
| | Croatia | 7 - 9 | | Malta | 5 - 7 |
| | Czech Republic | 5 - 6 | | Monaco | 2 - 3 |
| | Denmark | 2 - 3 | | Norway | 3 - 4 |
| | Estonia | 10 - 12 | | Poland | 5 - 6 |
| | Finland | 2 - 3 | | Portugal | 4 - 5 |
| | France | 2 - 3 | | Romenia | 7 - 9 |
| | Germany | 2 - 3 | | Serbia | 7 - 9 |
| | Greece | 5 - 7 | | Slovenia | 7 - 9 |
| | Hungary | 6 - 7 | | Slovakia | 7 - 9 |
| | Iceland | 4 - 5 | | Spain | 3 - 4 |
| | Ireland | 2 - 3 | | Sweden | 2 - 3 |
| | Italy | 3 - 4 | | Switzerland | 2 -3 |
| | Latvia | 10 - 12 | | Turkey | 8 - 10 |
Please note: For delivery outside the Netherlands it is recommended to put your phone number in the shipping information. Because:
When delivery is Late, something is Wrong or you are Not at Home the posal service / UPS can contact you for information, address or an new delivery appointment