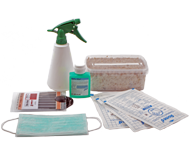 Myceliumbox Starter Pack
The Starter Pack contains everything you need (besides water) to ensure you get the highest yield possible out of the magic mushroom kits.
The all in one pack contains  disinfectant handgel, gloves, and a face mask for extra hygiene. To keep the temperature at an optimum, a thermo mat is included. You can choose from Standard mushroom starter pack and a SupaGro mushroom starter pack.
3 Product(s) matching your selection
FreshMushrooms grow kit Starter pack. All the cultivation items you need to grow a fine batch of magic mushrooms.

Learn More

Starting from: €54.95

Up to: €56.95

SupaGro Magic mushroom starter kit will get you everything you need to grow your first batch of magic mushrooms. SupaGro magic mushroom kits are fast growers and have a great yield of medium sized shroomies.

* SupaGro does not recommend using an heatingmat under it's kits. This item is removed from the starter pack.

Learn More

Out of stock

Normal price € 63,90 You save € 8,95

Are you new to mushroom cultivation? Then order this all-in-one starters grow kit. The starter grow kit contains all the accessories you should need to cultivate your mushrooms in optimum conditions.
Choose from all 1200cc magic mushroom grow kits.

Learn More